Equity for Funding? The Ins and Outs of Giving Equity in Exchange for Funding
For some entrepreneurs, giving away equity in your business can feel a bit like selling part of your soul. Other cash-strapped business owners eager to grow will take funding at almost any cost.
Equity 101
Very simply put, equity deals involve giving away a percentage ownership of your business in return for funding, resources or skills. How these deals are structured can take a variety of different forms, but the basic principle is the same: equity is given away in order to gain the things that will help take the business forward to the next growth level. Because most entrepreneurial businesses are almost perpetually cash-strapped, they either can't afford to buy in the skills and resources needed, or they can't access the funding required to grow. In many instances, the only thing they possess is the equity in the business and this is used as a means of exchange for what they need but cannot access through other means.
It's a common misconception that equity deals only involve funding. While funding is what most entrepreneurs lack, resources and skills are equally common reasons for giving away a share of the business. For example, this might involve taking on a partner who brings to the table certain skills that the owner does not possess but which are needed to take the business forward. Alternatively, one might give away equity in return for resources such as equipment or contacts. Someone who can open doors to the right deals can be of immense value to a business and many entrepreneurs choose to give away equity to a person who brings such benefits to the table.
Equity changes through the business life-cycle
Pavlo Phitides, CEO of business incubation company, Aurik, explains that the equity needs and deals change as the business moves through different business development life stages.
"In the start-up phase, businesses are typically under-resourced but they need skills to cement solid foundations and get sales going. Entrepreneurs are often strong in their particular 'subject' area but weak in others like marketing or financial management. So they are faced with a number of options: They can try to muddle through their weak areas alone, however this often comes back to bite the business. They can hire someone who has the strengths they don't possess, but being under-resourced presents a problem because they can't pay market-related salaries for good talent. Or they bring in a partner who possesses those skills and give that person equity in the business."
In the growth stage of the business, equity needs change. "Businesses can either grow organically, which is appropriate for certain businesses but can be frustrating and slow, or they can grow aggressively but for this they typically need funding," says Phitides.
There are two key funding options: debt funding and equity funding. "You need assets to secure debt funding and you need to be able to pay back the loan as well as the interest on a monthly basis. Equity funding on the other hand means you don't need to dedicate a certain amount of money every month – at a time when money is most needed in the business – to service interest and repayments," explains Phitides. Of course, many entrepreneurial businesses simply can't access debt funding, so equity funding is the only option available to them, unless they are able to raise capital on their own.
Before you take the leap…
This last point is an important one. "Giving away equity is akin to giving away your future wealth. Entrepreneurs often don't realise this. They are so desperate for the money now, that they don't properly explore all alternative options," says Phitides. Before you rush into an equity deal, you need to make sure you've asked yourself some important questions, he says.
Most important of all is to determine whether the skills, resources or funding you think you need is really critical to the future of the business. Many successful businesses manage without funding, particularly in the early stages – ask yourself if it's not possible for you to do the same.
If you're looking for a certain skills set but can't afford to pay a salary for the right person, it might be worth exploring the possibility of paying a once-off fee to get what you need. In other words, you might choose to bite the bullet and pay a marketer to put together a marketing plan for you, rather than taking on a partner with marketing expertise and giving them equity in return. Serial entrepreneur and investor, Vinny Lingham says, "I generally don't recommend giving away equity for once-off transactions. If someone does a referral for you but there is no long-term relationship, equity shouldn't be given away – rather pay cash if possible, or give a payable note for a future date with interest."
Phitides agrees: "The value that the person brings should be ongoing. If not, you might find yourself five years down the line and feeling very resentful about the fact that someone owns 25% of your now highly-valued business, in which they do nothing, just because they gave you a marketing plan when you needed one in the early stages. I have seen this kind of deal lead to lots of bitterness, unhappiness and conflict."
This is not to say that giving away equity is a bad idea in itself. "Often, it's unavoidable. My view, however, is that it's only a bad idea if you haven't explored all alternative options and if you haven't properly considered the consequences of the deal – and made up your mind about whether you can live with them or not," says Phitides.
How it will change your business
Make no mistake, an equity deal has immediate and long-term consequences. "Once the deal is done, your business is seldom the same," says entrepreneur Howard Blake, chairman of Blake & Associates. "Entrepreneurs thrive on their independence and own leadership style in achieving their objectives. They find it challenging and stifling being confronted by the endless compliance and governance requirements of outside shareholders. Innocence lost is never regained, in a sense," he adds.
Bear in mind that investors will want to see structures and systems put in place, and will expect regular detailed reports on the business's activities. If you don't have the stomach for this – and many entrepreneurs don't – then you don't have the stomach for such an equity deal. Phitides adds an interesting point. "Often, the reason that entrepreneurs aren't meeting their goals is because they can't work within the parameters of the investors. Frustrated or stifled, they lose enthusiasm and passion and deliver a lack-lustre performance where once they excelled."
Whether you exchange equity for an active partner in the business, or a 'silent' shareholder, the fact remains that you give away a degree of autonomy when you give away equity. You will, to some extent, be answerable to others for the decisions you make. "Your funder will want things rolled out and achieved as forecast in the business plan you presented and as agreed when you struck the deal. But I have never seen a business achieve its forecasted plan – ever – and this can leave entrepreneurs in an impossible position," says Phitides. Depending on the deal, investors may become punitive. "The deal may allow them to increase their equity share because you have failed to deliver what was required and agreed, so you find yourself incrementally losing more and more ownership" he explains.
Common mistakes
This brings us to some of the common mistakes entrepreneurs make when doing an equity deal. "One of the worst and most damaging mistakes is that they don't formalise the agreement, setting out clearly the expectations, deliverables and consequences. My advice is to watch The Social Network on the Facebook story before you go into any kind of partnership," says Phitides, adding that most entrepreneurs don't formalise their contracts because they lack money for a lawyer. "Things are agreed verbally but are hardly ever written down, and it leads to endless problems and conflict," he says.
Another common mistake is for entrepreneurs to take on partners for the wrong reasons. Just because you like and trust someone doesn't make them an ideal business partner. "When you're starting out I suggest you find one partner to start the business with. One of you should have technical or product skills and the other should be business or marketing focused, for example," says Lingham. It's comforting to go into business with a partner who is similar to you, but what's actually needed is someone who has complementary, but different, strengths and skills. "If you both enjoy sales and marketing, the operational and financial side of the business will get neglected," says Phitides.
"Being too generous or too greedy is another pitfall," says Lingham.
While you might believe that your business will be valued at R1 billion in five years' time, remember that this is only a projection. Any investor who does an equity deal is taking a risk, so bear this in mind when you find yourself becoming greedy. On the other hand, don't undervalue your business to the extent that you give away so much and find yourself five years down the line owning only 6% of something really valuable that you've put your heart and soul into building.
Valuing the business
One of the most difficult aspects of doing an equity deal is how to value the business, not only on paper but in your own mind. After all, you need to have a sense of what the business is worth to know what your top and bottom end will be for any equity deal. Vinny Lingham discusses how to weigh the decision: "If you bring on a partner or investor, you need to determine if the equity you are giving them will deliver a greater return on your existing equity than not having them will do. Let's assume you have a business that is worth R1 million and that you own 100%. You give 50% to an investor who puts R1 million into the business. So you now have 50% of the business, but it's now worth R2 million. In theory this puts you back in the same position, of 'owning' a share worth R1 million. But, if you are able to use the cash to double the value of the business to R4 million then your 50% is worth R2 million and you're ahead. The question to always ask yourself is, 'By taking on this partner, can I grow the business so that my new percentage of the grown business will be worth more than I have now?'"
What makes for a good equity partner?
Pavlo Phitides' insight into what to look for in an equity partner:
An ongoing contribution in one or, ideally, all of the following: funding, skills, resources and relationships.
Someone who buys into and supports your vision. While you will be answerable to them to some extent, their involvement shouldn't quell or interfere with your passion. It is this, after all, that drives the entrepreneur's tenacity and allows them to stick with it when the going gets tough.
Patience. Nothing ever goes according to plan and it may well take longer than expected for an investor to see returns from an entrepreneurial enterprise.
Advice on equity contracts
If you can't afford a lawyer to put together your equity contract (and many businesses can't) Phitides recommends you put together a deal sheet.
"This should include who gets what percentage for what contribution, what each person needs to do in the business and what areas they are responsible for, and what the consequences are of not doing these things," he says.
Pay Your Dues Before Raising Capital
Do your preparation. Research your market, build a cash reserve and win over your customer. Then ask for investment.
Did you know there are 10 billion mobile phones in the world? I have an idea for an app. If we only get 1% of the 10 billion users out there, I'll have 100 million users and my company will be worth R1 billion. Will you give me R10 million for 5% equity? — Dave
Is this you? If so, pay attention: Market size does matter. But competition matters more.
Yes, there are billions of mobile phones in the world. Yes, there are great opportunities to be grasped. Yes, if you grasp them you will be rich.
The question is: How will you avoid competition? How will you ensure you're not fighting hundreds of other well-funded, hard-working entrepreneurs? How are you different from the hundreds of others that chased the same idea and failed without trace?
Assuming that by some miracle you find a niche in which you're the only player, the next question is: How are you going to let people know about your product? How will you raise awareness? How will you market?
These are the questions to ask yourself before you ask someone else for investment. Otherwise you'll look like a fool and fail. Or worse, you'll find a fool investor and you'll waste two years of your life, at the minimum, chasing an impossible dream and losing other people's money.
Related: Raising Capital In A Worsening Macro-Economic Environment
I currently work on a mine in the Northern Cape. I want to make a device that allows mining machinery and people to interact/communicate, thereby increasing safety and efficiency. — Brendan
Good idea, nice niche (niches are good!) You're talking about entering the IoT category (Internet of Things). A healthy place to be in coming years.
In my opinion, you don't want to get into the hardware game. Rather plug into the APIs (Google it) of smart device vendors like Apple and Fitbit. When it comes to sensors/devices for cars, buildings etc, you can find some pretty affordable stuff out there. Good battery, low maintenance. You'll need to research it yourself. The key is the software. Tying together all the watches and cars and buildings in order to improve efficiency and safety.
Making software is not wildly easy. If you're not a software developer, you have three choices:
Pay for a developer to do it.
Give equity to a developer to do it.
Learn how to develop.
Option one is the cleanest and best. Your minimum viable product will probably cost about R200 000. If you don't have the cash, postpone your dream. Don't panic, the opportunity is not going away. Before you embark on your entrepreneurial journey, make sure you have enough cash.
I have compiled a marketing template. Kindly advise if the wording, language and clarity is on point. I had a second opinion saying it was not engaging, professional and has no actionable call. — Mam
Documents are useful for forcing you to distil your thinking, but they won't get you a deal. Only face-to-face meetings get the deal. Only relationships get the deal.
Spending your life fine-tuning decks and docs is a form of procrastination and delaying the real thing: Sales.
If you win over the customer, the rest is just 'ticking the boxes'. If you don't win over the customer, the rest is just finding excuses to not give you a deal. Of course, you need your summary document. And it needs to be professional. And it needs a call to action.
But success will come from your ability to win over the customer (or investor). Don't look to your documents. Look to your customer.
---
Alan Knott-Craig's latest book, 13 Rules for being an Entrepreneur is now available.
What it's about
It's easy to be an entrepreneur. It's also easy to fail. What's hard is being a successful entrepreneur. For an entrepreneur, there is only one important metric of success: Money. But life is not only about making money. It's about being happy. This book is a collection of tips and wisdom that will help you make money without forgoing happiness.
Get it now
To download the free eBook or purchase a hard copy, go to www.13rules.co.za.  To browse Alan's other books, visit bigalmanack.com/books/
Who Would Invest In Your Start-up, And Why?
The type of funding you should pursue depends on your business's value and scalability.
When we launched Cielo MedSolutions, a SaaS provider of population management healthcare apps, in 2006, my co-founder and I assumed we'd be able to raise venture capital. After all, we both had track records of having built and run software businesses and making money for investors.
However, we failed to raise VC funds, and had to settle for a far more modest amount of capital from a combination of angels, economic development agencies, non-profits and federal grants.
Partly as a consequence, we grew considerably more slowly than we had hoped. We ended up with a nice exit – sold to The Advisory Board Co. (ABCO) a little over four years later – so nobody's feeling sorry for us. But, it wasn't the big splash we set out to create.
Why? Even I, as a student of the game, have had trouble gauging start-up investor interest.
This experience – combined with observing hundreds of other start-ups – motivated me to look more closely at these tough questions: As you're thinking of launching a business, or looking to take your existing business to the next level, should you aspire to raise outside financing?
Related: Looking For Funding? First, Understand What Funders Look For
And if so, what types of funding sources might consider your business to be an attractive investment? VCs? Angels? Friends and family? None of the above?
The Start-up Fundability Matrix
In my recent book, The Launch Lens: 20 Questions Every Entrepreneur Should Ask, I introduced the Start-up Fundability Matrix (see below), a conceptual framework that can provide you with preliminary answers to these questions.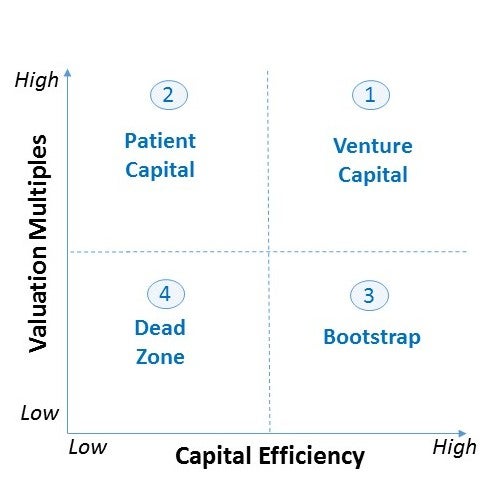 A quick, nerdy explanation
The x, or horizontal, axis of the Start-up Fundability Matrix indicates capital efficiency (ranging from low to high). All other things being equal, outside investors prefer to put their money behind a business that's capital efficient, meaning that for every dollar invested, it's good at producing strong returns on a dollar-for-dollar basis.
On this scale, the more "investable" businesses tend to be those that (a) require only a modest amount of capital to launch, and/or (b) can be scaled dramatically and efficiently by injecting just a modest amount of additional capital.
The y, or vertical, axis denotes valuation multiples (again, ranging from low to high). Valuation is the value of the company, or its overall financial worth to investors. Since early stage companies are privately held, and therefore don't have a stock price you can look up on a public exchange, investors often use patterns from comparable companies to estimate the valuation of a start-up.
The most commonly used metric is the valuation multiple – that is, how much certain types of companies are typically worth, measured as a multiple of the last 12 months' earnings (profit) or revenue (total sales). In general, businesses that achieve high valuation multiples are those that show three characteristics: High growth potential, sustainably high profitability and strong differentiation versus competitors.
Related: The 3 Most Essential Points To Keep In Mind For Your Next Accelerator Pitch
So, now we're ready to look at where various businesses fall in the Start-up Fundability Matrix. Here are the four quadrants:
Quadrant 1 (upper right): Venture Capital – Businesses have a combination of high valuation multiples and high capital efficiency — inexpensive to launch and/or inexpensive to scale; these startups are the most attractive to VCs, corporate strategic investors and organised angel groups (which often behave like VCs).
Quadrant 2 (upper left): Patient Capital – These companies share the high valuation multiples with Quadrant 1 firms, but are less capital efficient, often because they lend themselves to less rapid scaling due to addressing a more modest market.
These businesses tend to be better suited to investors who are more patient and perhaps less oriented toward pure financial returns – such as friends and family, specific angels with a special affinity for your particular sector, federal government grants, or state and local small-business loan programs.
Quadrant 3 (lower right): Bootstrap – These businesses rank relatively poorly on the scale of valuation multiples; on the other hand, they tend to be capital efficient (inexpensive to launch and scale). Think of Quadrant 3 firms as cash-flow or lifestyle businesses. It's often possible to get such a business up and running with a modest investment out of savings or a bit of credit card debt.
Quadrant 4 (lower left): Dead Zone – Businesses here are extraordinarily hard for entrepreneurs to finance, and for good reason – they require a lot of capital to launch, and once up-and-running, are simply not that valuable. As a consequence, outside investors tend to run away from such startup ideas.
How I could have used this tool
Circling back to Cielo MedSolutions, we launched the company assuming we were in Quadrant 1, an "investible deal" for VCs.
We were wrong, because most healthcare IT-oriented VCs, while feeling comfortable with the high valuation multiples in our sector, suspected that we were too "niche-y" – addressing too modest a market – to be dramatically scalable post-launch.
Although we didn't have the benefit of the Start-up Fundability Matrix at the time – and hindsight is 20:20 – what the VCs were effectively signaling to us is that we belonged in Quadrant 2.
We raised a couple of million dollars from a blend of "patient capital" investors. Had we known our "quadrant" up front, we could have saved a lot of time pitching VCs, and redirected our efforts toward selling to customers, building industry alliances and the like. Alternatively, this clarity of thought might have motivated us to explore broadening our product offering.
Related: 6 Great Tips For A Successful Shark Tank Pitch
How you can use this tool
Applying the Start-up Fundability Matrix to your start-up can help you be clear-eyed about whether you should aspire to raise outside capital, and if so from what types of investors.
If you think you're high on the y-axis (i.e., high valuation multiples), then the primary determinant of whether you're in Quadrant 2 (Patient Capital) or 1 (VC) is market size. Narrow or niche product businesses push a company to the left (Quadrant 2), while very large addressable markets and broader product platforms tend to push a company to the right (Quadrant 1).
On the other hand, if your business ranks low on the y-axis (low multiples), the principle factor pushing you left or right on the x-axis is launch cost. Companies that can be launched with a modest amount of capital fall into Quadrant 3 (Bootstrap), while those that require large amounts of capital to build (e.g., to fund construction of a factory or a large store, and to purchase large amounts of inventory) fall into Quadrant 4 (Dead Zone).
At the earliest stages of company development, the Start-up Fundability Matrix can even help you think through the pros and cons of different business models.
If, for instance, you're an entrepreneur with a passion for buying and selling used musical instruments, a Quadrant 3 approach might be to open a brick-and-mortar store, with all its associated overhead and geographic constraints. Tough to get financed, so you'll probably need to bootstrap it.
Alternatively, you could pursue a Quadrant 2 (or even possibly 1) business model and create a re-commerce marketplace where your website enables sellers/consigners of instruments to find interested buyers.
By making that business model shift, you're tying up less capital in a physical store and inventory, while broadening your geographic reach, profitability and scalability.
In this example, the latter business model may not only be more fundable, but stands a much better chance of being sustainably profitable, and eventually earning money for you while you sleep.
This article was originally posted here on Entrepreneur.com.
Looking For Funding? First, Understand What Funders Look For
Are investors interested in ideas? Traction? The team? The founders? They're interested in all that and more, say VCs Keet van Zyl and Clive Butkow.
Put two venture capitalists and an entrepreneur (who pitched her business to almost every VC in South Africa before securing corporate funding) in a room, and you'll hear the truth about funding: What investors look for, the realities for business owners looking for funding, and what you can do to increase your chances of securing funding — or better yet, build a great business without it.
In June, the Matt Brown Show hosted a series of events, called Secrets of Scale at the MESH Club, focusing on what it takes to scale a business. Matt's panellists included Clive Butkow, ex-COO at Accenture and CEO of Kalon Ventures, a tech-focused VC firm; Keet van Zyl, a venture capitalist and co-founder of Knife Capital, and Benji Coetzee, founder and CEO of tech start-up EmptyTrips. To add a twist to events, both Keet and Clive chose not to invest in Benji's business when she was on the funding trail, even though they believe strongly in both her and her idea.
Here's what we learnt from their experiences, insights and advice for local business owners.
Funders back the jockey, not the horse
This is a truth that Benji has experienced first-hand. "After months of trying to find an investor, I decided that VCs don't know what they want," she says. "The ladder of proof just keeps getting longer — big white space, addressable market, an MVP (minimum viable product), traction, first users — there's a long checklist and you just need to keep ticking those boxes. Great concept, great team, we love it, keep going. I can't tell you how many times I heard that."
What Benji learnt was that the corporate funders who would eventually choose to back her were interested in two core things. First, did she have skin in the game? By that stage, she had invested R3 million of her own funds into the business, and so the answer was decidedly yes. She was already backing herself.
The second was that they wanted to back her — not necessarily the business. They were interested in her passion, dedication, experience and networks. "You still need everything I mentioned before," she says. "But ultimately an investor backs the entrepreneur, not the business."
Clive agrees. "There are a lot more million-rand ideas than million-rand entrepreneurs," he says. "At Kalon, we've seen 600 companies and we've made four investments. That's one to 100 odds, which is pretty standard in this industry.
Related: A Comprehensive List Of Angel Investors That Fund South African Start-Ups
"That doesn't mean the 596 businesses we saw weren't good businesses. Some of them were fantastic. They just weren't investable businesses because we knew they wouldn't give us a 10x return. They also weren't 600 unique businesses — they were 100 unique businesses six times. There are very few unique ideas or even businesses out there — and so it's the entrepreneur who makes the difference, and who you ultimately want to back.
"We look at three things in an investment. Is the deal investable? Is the person investable? Is the risk investable? If all three answers are yes, we can take it further. You need to have a great jockey; you need to have execution capability; and you need to have traction in a large target addressable market."
Funders are interested in traction
For Clive, traction trumps everything. "I look for the 4 Ts: Team, Technology, Traction and Target Addressable Market. Without traction though, the other three aren't worth much."
"Every single business we've invested in had customers, and wasn't just an idea," agrees Keet.
The best way to prove traction and to get funders invested is to start introducing yourself before you need money, and then keep them up-to-date on what you're doing and achieving.
"We receive five business plans via email a day for funding, and we ignore them all if they haven't come through our network," says Keet. "This isn't unusual. 93% of deal flow in South Africa comes from within the VC's network."
Don't think of a VC's network as an exclusive 'invite only' club though. "Building a network is all about attending ecosystem evenings and embracing targeted networking," says Keet.  "We're all on Twitter. Get to know us. I'm passionate about the journey of an entrepreneur — send me a newsletter telling me who you are, and three months later where you are now. That's my passion. I love that stuff."
More importantly, it's not just a business plan — instead, you're letting potential investors into your story, and giving them the opportunity to share in your journey.
"It's not that difficult to get into networks and bump into people at events," says Keet. "And then it's much easier to send a follow-up email saying, 'Hi Keet, we met last week at the MESH Club at the Matt Brown event, can we have a coffee?' It's tough to say no to requests like that."
Related: Attention Black Entrepreneurs: Start-Up Funding From Government Grants & Funds
Clive agrees. His advice is to always meet your investors before you need money. "We don't have the bandwidth for cold emails, but we do enjoy sharing stories and business journeys.
"Think about it like this: We don't invest in dots, we invest in lines. Tell me where you are now and where you're planning to be, and then keep updating me. You're then able to prove that you can stick to your goals, execute on them, and hopefully even exceed expectations. Get that right, and funders will come to you."
Clive also says that smart VCs play the long game, often supporting businesses even if they don't believe the time is right to invest in them.
Both VCs used Benji as an example of this strategy in action. While neither fund was able to back EmptyTrips, both Clive and Keet have kept in touch, followed Benji's growth trajectory, and supporting her where possible, either with advice or connections.
"Keet opened me to the angel network," says Benji, "and his partner, Andrea, introduced me to Lionesses of Africa. It was that involvement that allowed us to build a relationship with Siemens and Deutsche Autobahn. VCs aren't just about funding — they enable ecosystems too."
Before you look for funding, make sure you actually want (or need) it
The most common question people ask Clive is, 'How do I raise VC funding and from who?' According to Clive, this is the wrong question to be asking. "Equity funding should always be a last resort," he says. "The question business owners should be asking is, 'do I need funding?' The best way to build a business is through customer funding. Some businesses are capital intense, but I've built many tech companies with no external capital. Customer funding is gold."
Even though Benji has needed additional capital to build her business, she has also learnt the value of starting with what your clients want.
"Businesses change and evolve. We started out wanting to fill trucks on the empty legs of their trips. I now manage more trucks than Imperial's CEO, but we don't own a single vehicle, because we're a platform that connects transport operators with companies that need transport solutions. We've since built an open spot market and we offer insurance solutions.
"We spend so much time asking what VCs want — and I was guilty of this too — when we should be asking what our clients want and need, and then building those solutions for them. That's how you get clients to fund your business."
Creating traction, knowing what clients want, building a use case: These are all essential steps in the overall process, and they will either lead you to funding, or help you build a business that doesn't need external capital.
Focus on what moves the needle
"The real trick to growth is focus," says Clive. "Don't try to do too many things. Go deep and drill for oil and gold. Once you've scaled a business and you've become the best at something you can start to expand. Too many entrepreneurs are easily distracted. Most start-ups don't even know what they're building until they start getting real customer feedback. If you're doing too much it's difficult to take that feedback in and adjust what you're doing."
Keet agrees. "Find your strategy, determine the key metrics you need to grow in, and then focus on growing those metrics — and only those metrics — aggressively.
Related: Government Funding And Grants For Small Businesses
"From a scalability perspective, the entrepreneur's ability to execute their strategy is paramount. You need a good product, a large market, and to know where you're going. You also need to be able to grow five key areas simultaneously: Customers, product, team, business model and funding. These need to grow in proportion if you want to succeed — which is where the ability to execute becomes so vital."
"Scaling a business is always about the practical stuff," says Benji. "Consultants and VCs always have acronyms — the 4Ps, 5Cs — I have the 5Es.
"First, you need an explicit purpose. Be clear on what you're doing and why you're doing it. Next, you need an effective model that makes financial sense. You need to achieve sustainability sooner rather than later, because the sooner you can fund yourself the better.
"Next is execution support, and this is all about having the right team behind you. You need to be able to execute fast — and that takes a team. It doesn't have to be perfect; just get it done — done is better than perfect. That way you're first and will hopefully stay ahead. I often call our customers to apologise for something we're fixing on the platform and they're always okay with it, because we're the only one doing this, and we're still building it up.
"This is followed by what I call 'enveloped co-opetition', which basically means working within your ecosystem. Work together with neighbouring industries. Grow together and support each other, even if you are also competitors. This actually opens doors.
"Finally, you need emotional resilience, because this is tough, and you need to keep at it if you want to succeed."
---
TOP TIP
"We tend to fund older entrepreneurs who are more mature, understanding and generalists. You need resilience and the tools to succeed, and that often comes from having spent time in corporates, building up experience and a skills set." — Keet van Zyl
---
Open additional revenue streams
As Benji mentions, the sooner you can fund yourself the better, so building a sustainable business is key. In addition to this, opening additional revenue channels can help pay the bills while your business gains traction.
"Scalable businesses are based on products or platforms, not services," says Clive. "However, you can fund the product business with cash flow received through services. Ideally though, as the business grows, you want to increase your product revenue and decrease your services-derived revenue.
"Think of your services revenue as short-term, augmenting the business model while you're building it."
Related: The Definitive List Of South African Business Incubators For Start-Ups
Benji, who is still consulting, agrees. "My consulting work ensures I have revenue coming in to support the business if we need it," she says.
"Look for anything your company does — or can do — that can be monetised," advises Clive. "But most importantly, critically analyse your business offerings. If you're solving a real problem, your business can be customer-funded, particularly if your customers love you. I've seen cases where customers will pay upfront because they need your solution that badly. That's the business you want to build. It's also something VCs look for, because it shows you have real product-market fit."
---
TOP TIP
"Focus on learning, not earning. Take the long-term view and build the skills to become an employer. Learn as much as you can about business. There are unlimited opportunities to learn available to us today. Become a generalist to succeed and focus on being a leader, and then hire the specialists." — Clive Butkow