The Dangers Of Crowdfunding With Coolest Cooler Founder Ryan Grepper
Crowdfunding is about more than simply raising quick cash for your business idea.
In 2013, Ryan Grepper launched a crowdfunding campaign on Kickstarter for a product he called The Coolest Cooler. Ryan described The Coolest Cooler as a "party disguised as a cooler," and he equipped it with things like a cutting board, blender, Bluetooth speaker and USB charger.
The campaign was a failure. Ryan had set his goal at $125 000, but the campaign only made around $100 000. According to the entrepreneur, there had been a couple of reasons for this failure. He felt that he had set his goal a little too high, and he also thought that it had been a mistake to launch in winter when people weren't thinking about beach parties and picnics. Most importantly, though, his product hadn't quite been ready. The prototype he based the campaign on wasn't ready for market.
Related: Equity Crowdfunding In SA Explained
So, in July 2014, he went back to Kickstarter with a more polished version of his cooler. His target this time around was also a more modest $50 000. The campaign was an immediate success. Less than 36 hours after launching, he hit his goal, and astonishingly, a day after that the campaign hit $1 million. By the end of the campaign, The Coolest Cooler had raised more than $13 million — 20 000% more than its $50 000 target.
Sadly, though, this story doesn't have a particularly happy ending. The Coolest Cooler became a victim of its own crowdfunding success. Ryan had a clever product idea, but nothing much more than that. In return for all that money, he had promised funders a reward in the form of their very own Coolest Cooler, and he now faced the daunting prospect of fulfilling $13 million in orders. As many product-based start-ups also do, he had grossly underestimated the cost of building his cooler. During the campaign he had priced the Coolest Cooler at around $175, but it quickly became clear that he would need to sell it at $400 to make a profit.
Eventually, Ryan had to demand that funders send in an additional $100 to get their coolers, and he also started selling the product on Amazon before all the funders had received their coolers. Two years after the campaign, 36 000 people were still waiting. The Oregon Department of Justice eventually started investigating Ryan's company and reached a settlement in 2017 that will hopefully see funders receive a portion of the company's future profits. Thousands of backers, however, will probably never get their Coolest Coolers.
If done correctly, crowdfunding can offer more than a capital infusion into your business — it can also allow you to test the market and find out if there's an appetite for what you're offering. A successful campaign won't just help fund the business, but will also help you create a loyal and vocal group of customers who can help you spread the word.
Related: Kickstart Your Business Through Crowdfunding
As Ryan Grepper's story shows, though, there are dangers. Given the very public nature of crowdfunding, you won't be explaining problems to your investors behind closed doors — instead, you'll have to answer to annoyed funders on social media.
For this reason, it's important to understand exactly what crowdfunding is, and what the expectations of potential funders are likely to be.
Watch Ryan explain what the Coolest Cooler is below:
6 Steps To Ensuring You Meet Your Funder's Mandate
Find your funder, approach the right people, and tick all the boxes.
1. Determine why you need funding
According to Quinton Zunga, founder and CEO of RH Bophelo, a special purpose acquisition company with interests in the healthcare sector, many business owners do not understand cash flow and its impact on the operations of a business. "A good idea without enough cash flow is not sustainable," he says. "You have to prepare the business for the worst-case scenario and ask yourself 'what if things don't work out my way? Do I have a plan B?' Don't assume you'll be able to access finance to save the business if your cash flow is poor."
The reality is that too many business owners apply for funding because their working capital is under strain, customers owe them money or their margins are too low.
"There's a big difference between funding that will help you grow your business, and trying to plug a self-inflicted cash flow problem," agrees Kumaran Padayachee, CEO of Spartan SME Finance, an alternative funder.
The key to growth funding can be summarised in one sentence: Will this help me make money? If the answer is yes, you've ticked the growth-funding box. If you're not sure, relook your financials and forecasting. If the answer is no, you're trying to solve a cash flow problem that will not be fixed by taking on more debt funding.
"As a funder, we care about what entrepreneurs want the money for," says Kumaran. "We look at business models and strategy. We take a view of the entire picture, which gives us insight into whether the funding will be used in a growth context, or to plug a gap created by a strategy, cash flow, sales, marketing, management or an access-to-market problem."
The real insight is that it shouldn't only be up to funders to determine the answers to these questions, but business owners themselves. If you understand why you need funding, one of two things will happen: You'll realise there's a problem in the business that funding won't solve, and you can begin working on it; or you'll be prepared when you apply for funding, increasing your chances of securing the finance you need.
The reality is that too many business owners apply for funding because their working capital is under strain, customers owe them money or their margins are too low.
Related: Government Funding And Grants For Small Businesses
2. Understand the funding landscape
Different sectors, industries and funders have their own rules and mandates. To understand the funding you're trying to access, you need to first understand the sector you're in, and the funding rules 
that apply.
For example, property is a long-term investment and funders in this space require a commitment of at least five to 15 years. TUHF, which is a specialised residential property finance company, also requires 
an equity contribution, as it does not offer 100% financing.
"Funding is usually made up of two components: Financing (loans) and equity (owner's contribution)," says TUHF's CEO, Paul Jackson. "The purchase price of the property, the costs of refurbishment and the amount of money the client can contribute of his own money are the three main contributing factors that determine how much financing the client will need to 
apply for."
More importantly, entrepreneurs approaching TUHF are dealing with industry experts operating within a niche space. This is true of most funders, and should be carefully considered by business owners.
When you're considering your growth options, focus on what you absolutely need to push the needle, and make do with what you can as you build up your pipeline.
"In every case ask the question: Do the costs involved in accessing the finance make sense? Will this help drive growth? How? Once you've ticked those boxes, consider all your funding options. There are a lot of solutions available to you, from bank funding, which is the cheapest to access but requires a lot of collateral, to private equity funding, which involves giving away equity in the business," says Kumaran.
"Alternative funders like us play in the middle of these two traditional options. Alternative funders tend to be niche and specific, focusing on specific sectors or industries. They carry more risk and don't require collateral, which is why they're more expensive than banks, but they bring industry and sector-specific insights as well — and it's debt funding, which means you aren't giving away equity in your business. Their processes tend to be efficient as well, largely due to the niche nature of the funder. When you're ready to grow, find a funder that matches your needs and understands your business."
3. Start early
"Raising capital patiently is key, because acquiring funding quickly but unwisely could lead to repayment issues," says Quinton. "Some funding can only be accessed later and you need to be patient, or you may find yourself struggling to pay it off before your business has grown big enough to do so. You need to focus on preparing a business plan and understanding the cash flow impact of the decision you make. Look for an advisor or banker to work with you on the business plan."
4. Know what funders look for
All funders are looking for specific business and personal traits in the business owners they back. Quinton values integrity and honesty, a good understanding of the business they are in, and personal commitment. "Funding a new business is always tough because the entrepreneur may not have experienced all the sides of the economy and may not be accustomed, mature and ready enough to go to the next level. This is where a steady track record is advantageous," he adds.
Related: Attention Black Entrepreneurs: Start-Up Funding From Government Grants & Funds
Paul agrees. For TUHF, the entrepreneurial character and competence of the borrower is of paramount importance. "We follow a character-based lending approach," he says.
"A client that displays certain characteristics is considered a better investment option. These include entrepreneurial qualities; an open-minded attitude that is willing to take advice; someone who is self-disciplined and manages the cash flows of the property to the benefit of the property, and not for personal use. Other sought-after characteristics include someone who keeps their tenants happy by keeping the property clean and well maintained, providing all-round good customer service; is committed to doing everything in their power to ensure the success of the deal; is up-to-date on utilities; and directly involved in the property management, even if there is an external service provider."
5. Avoid red flags
Every funder has red flags they watch out for and they will walk away from a deal if they find them. "A bad past business track record indicates the business owner's legal, financial, and HR values," says Quinton. "These are important to us. Without some ethos and standards, you end up not being on the same page as your investor. I usually ask about the entrepreneur's previous partnership — how they handled it and why it ended. Desperation is also a deterrent, as is a poor business case."
Paul agrees. The driving factor in TUHF's business is the borrower's aptitude in property. "Real estate competency is therefore a key characteristic of TUHF borrowers. It's important that the building is properly matched to the skill and entrepreneurial competence of the borrower. Some of the conditions we evaluate include a credit record, ensuring the borrower is not under debt review, or blacklisted; returned debit orders on a client's bank statement; track record and state of repair of the client's other properties; having the right risk attitude, which in our case is considered, cautious and patient; taking the time to do due diligence; and property fit — does the size and nature of the project match the client's talents and experience. It's a red flag for us if one of these is mismatched."
6. Don't give up
The most important step in funding is perseverance. Many business owners knock on multiple doors and make numerous applications before finding a funder that fits. This could be because red flags need to be addressed and financial management accounts followed, but each time you approach a funder you learn something new that you can implement in your business.
"Don't view failure as a disaster," says Quinton. "Figure out which stage of the lifecycle your business is in and align that to your commitments."
Pay Your Dues Before Raising Capital
Do your preparation. Research your market, build a cash reserve and win over your customer. Then ask for investment.
Did you know there are 10 billion mobile phones in the world? I have an idea for an app. If we only get 1% of the 10 billion users out there, I'll have 100 million users and my company will be worth R1 billion. Will you give me R10 million for 5% equity? — Dave
Is this you? If so, pay attention: Market size does matter. But competition matters more.
Yes, there are billions of mobile phones in the world. Yes, there are great opportunities to be grasped. Yes, if you grasp them you will be rich.
The question is: How will you avoid competition? How will you ensure you're not fighting hundreds of other well-funded, hard-working entrepreneurs? How are you different from the hundreds of others that chased the same idea and failed without trace?
Assuming that by some miracle you find a niche in which you're the only player, the next question is: How are you going to let people know about your product? How will you raise awareness? How will you market?
These are the questions to ask yourself before you ask someone else for investment. Otherwise you'll look like a fool and fail. Or worse, you'll find a fool investor and you'll waste two years of your life, at the minimum, chasing an impossible dream and losing other people's money.
Related: Raising Capital In A Worsening Macro-Economic Environment
I currently work on a mine in the Northern Cape. I want to make a device that allows mining machinery and people to interact/communicate, thereby increasing safety and efficiency. — Brendan
Good idea, nice niche (niches are good!) You're talking about entering the IoT category (Internet of Things). A healthy place to be in coming years.
In my opinion, you don't want to get into the hardware game. Rather plug into the APIs (Google it) of smart device vendors like Apple and Fitbit. When it comes to sensors/devices for cars, buildings etc, you can find some pretty affordable stuff out there. Good battery, low maintenance. You'll need to research it yourself. The key is the software. Tying together all the watches and cars and buildings in order to improve efficiency and safety.
Making software is not wildly easy. If you're not a software developer, you have three choices:
Pay for a developer to do it.
Give equity to a developer to do it.
Learn how to develop.
Option one is the cleanest and best. Your minimum viable product will probably cost about R200 000. If you don't have the cash, postpone your dream. Don't panic, the opportunity is not going away. Before you embark on your entrepreneurial journey, make sure you have enough cash.
I have compiled a marketing template. Kindly advise if the wording, language and clarity is on point. I had a second opinion saying it was not engaging, professional and has no actionable call. — Mam
Documents are useful for forcing you to distil your thinking, but they won't get you a deal. Only face-to-face meetings get the deal. Only relationships get the deal.
Spending your life fine-tuning decks and docs is a form of procrastination and delaying the real thing: Sales.
If you win over the customer, the rest is just 'ticking the boxes'. If you don't win over the customer, the rest is just finding excuses to not give you a deal. Of course, you need your summary document. And it needs to be professional. And it needs a call to action.
But success will come from your ability to win over the customer (or investor). Don't look to your documents. Look to your customer.
---
Alan Knott-Craig's latest book, 13 Rules for being an Entrepreneur is now available.
What it's about
It's easy to be an entrepreneur. It's also easy to fail. What's hard is being a successful entrepreneur. For an entrepreneur, there is only one important metric of success: Money. But life is not only about making money. It's about being happy. This book is a collection of tips and wisdom that will help you make money without forgoing happiness.
Get it now
To download the free eBook or purchase a hard copy, go to www.13rules.co.za.  To browse Alan's other books, visit bigalmanack.com/books/
Who Would Invest In Your Start-up, And Why?
The type of funding you should pursue depends on your business's value and scalability.
When we launched Cielo MedSolutions, a SaaS provider of population management healthcare apps, in 2006, my co-founder and I assumed we'd be able to raise venture capital. After all, we both had track records of having built and run software businesses and making money for investors.
However, we failed to raise VC funds, and had to settle for a far more modest amount of capital from a combination of angels, economic development agencies, non-profits and federal grants.
Partly as a consequence, we grew considerably more slowly than we had hoped. We ended up with a nice exit – sold to The Advisory Board Co. (ABCO) a little over four years later – so nobody's feeling sorry for us. But, it wasn't the big splash we set out to create.
Why? Even I, as a student of the game, have had trouble gauging start-up investor interest.
This experience – combined with observing hundreds of other start-ups – motivated me to look more closely at these tough questions: As you're thinking of launching a business, or looking to take your existing business to the next level, should you aspire to raise outside financing?
Related: Looking For Funding? First, Understand What Funders Look For
And if so, what types of funding sources might consider your business to be an attractive investment? VCs? Angels? Friends and family? None of the above?
The Start-up Fundability Matrix
In my recent book, The Launch Lens: 20 Questions Every Entrepreneur Should Ask, I introduced the Start-up Fundability Matrix (see below), a conceptual framework that can provide you with preliminary answers to these questions.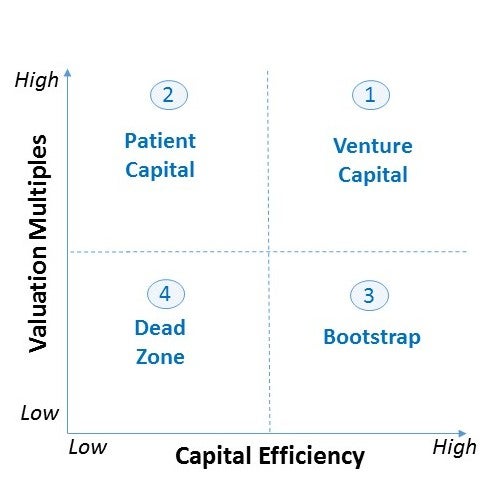 A quick, nerdy explanation
The x, or horizontal, axis of the Start-up Fundability Matrix indicates capital efficiency (ranging from low to high). All other things being equal, outside investors prefer to put their money behind a business that's capital efficient, meaning that for every dollar invested, it's good at producing strong returns on a dollar-for-dollar basis.
On this scale, the more "investable" businesses tend to be those that (a) require only a modest amount of capital to launch, and/or (b) can be scaled dramatically and efficiently by injecting just a modest amount of additional capital.
The y, or vertical, axis denotes valuation multiples (again, ranging from low to high). Valuation is the value of the company, or its overall financial worth to investors. Since early stage companies are privately held, and therefore don't have a stock price you can look up on a public exchange, investors often use patterns from comparable companies to estimate the valuation of a start-up.
The most commonly used metric is the valuation multiple – that is, how much certain types of companies are typically worth, measured as a multiple of the last 12 months' earnings (profit) or revenue (total sales). In general, businesses that achieve high valuation multiples are those that show three characteristics: High growth potential, sustainably high profitability and strong differentiation versus competitors.
Related: The 3 Most Essential Points To Keep In Mind For Your Next Accelerator Pitch
So, now we're ready to look at where various businesses fall in the Start-up Fundability Matrix. Here are the four quadrants:
Quadrant 1 (upper right): Venture Capital – Businesses have a combination of high valuation multiples and high capital efficiency — inexpensive to launch and/or inexpensive to scale; these startups are the most attractive to VCs, corporate strategic investors and organised angel groups (which often behave like VCs).
Quadrant 2 (upper left): Patient Capital – These companies share the high valuation multiples with Quadrant 1 firms, but are less capital efficient, often because they lend themselves to less rapid scaling due to addressing a more modest market.
These businesses tend to be better suited to investors who are more patient and perhaps less oriented toward pure financial returns – such as friends and family, specific angels with a special affinity for your particular sector, federal government grants, or state and local small-business loan programs.
Quadrant 3 (lower right): Bootstrap – These businesses rank relatively poorly on the scale of valuation multiples; on the other hand, they tend to be capital efficient (inexpensive to launch and scale). Think of Quadrant 3 firms as cash-flow or lifestyle businesses. It's often possible to get such a business up and running with a modest investment out of savings or a bit of credit card debt.
Quadrant 4 (lower left): Dead Zone – Businesses here are extraordinarily hard for entrepreneurs to finance, and for good reason – they require a lot of capital to launch, and once up-and-running, are simply not that valuable. As a consequence, outside investors tend to run away from such startup ideas.
How I could have used this tool
Circling back to Cielo MedSolutions, we launched the company assuming we were in Quadrant 1, an "investible deal" for VCs.
We were wrong, because most healthcare IT-oriented VCs, while feeling comfortable with the high valuation multiples in our sector, suspected that we were too "niche-y" – addressing too modest a market – to be dramatically scalable post-launch.
Although we didn't have the benefit of the Start-up Fundability Matrix at the time – and hindsight is 20:20 – what the VCs were effectively signaling to us is that we belonged in Quadrant 2.
We raised a couple of million dollars from a blend of "patient capital" investors. Had we known our "quadrant" up front, we could have saved a lot of time pitching VCs, and redirected our efforts toward selling to customers, building industry alliances and the like. Alternatively, this clarity of thought might have motivated us to explore broadening our product offering.
Related: 6 Great Tips For A Successful Shark Tank Pitch
How you can use this tool
Applying the Start-up Fundability Matrix to your start-up can help you be clear-eyed about whether you should aspire to raise outside capital, and if so from what types of investors.
If you think you're high on the y-axis (i.e., high valuation multiples), then the primary determinant of whether you're in Quadrant 2 (Patient Capital) or 1 (VC) is market size. Narrow or niche product businesses push a company to the left (Quadrant 2), while very large addressable markets and broader product platforms tend to push a company to the right (Quadrant 1).
On the other hand, if your business ranks low on the y-axis (low multiples), the principle factor pushing you left or right on the x-axis is launch cost. Companies that can be launched with a modest amount of capital fall into Quadrant 3 (Bootstrap), while those that require large amounts of capital to build (e.g., to fund construction of a factory or a large store, and to purchase large amounts of inventory) fall into Quadrant 4 (Dead Zone).
At the earliest stages of company development, the Start-up Fundability Matrix can even help you think through the pros and cons of different business models.
If, for instance, you're an entrepreneur with a passion for buying and selling used musical instruments, a Quadrant 3 approach might be to open a brick-and-mortar store, with all its associated overhead and geographic constraints. Tough to get financed, so you'll probably need to bootstrap it.
Alternatively, you could pursue a Quadrant 2 (or even possibly 1) business model and create a re-commerce marketplace where your website enables sellers/consigners of instruments to find interested buyers.
By making that business model shift, you're tying up less capital in a physical store and inventory, while broadening your geographic reach, profitability and scalability.
In this example, the latter business model may not only be more fundable, but stands a much better chance of being sustainably profitable, and eventually earning money for you while you sleep.
This article was originally posted here on Entrepreneur.com.